Key Offer Information
The Fund aims to provide investors with:
Attractive, regular, tax-effective income stream;
Income target of 7.0% annual pre-tax distribution yield, comprising a 5% cash dividend yield paid in monthly instalments and 2% franking credits;
Long-term capital growth;
Active management and diversification;
The ETMF structure
Provides investors with transparency, liquidity, active management and efficiency;
Trades like a listed share
Investor Profile
Suited to investors in the pension and superannuation phase who are seeking a greater level of income than that achieved by term deposits and are able to take full advantage of franking credits and share buybacks.
Key Offer Statistics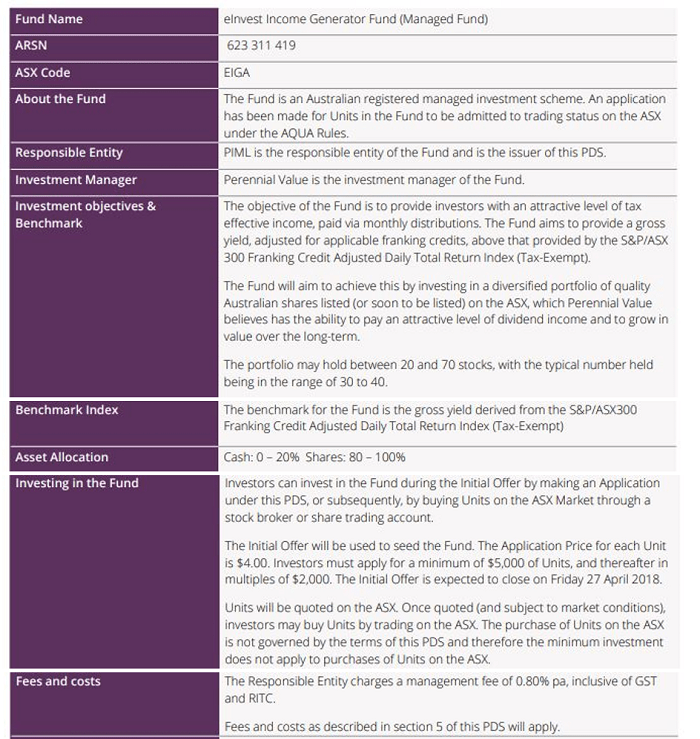 Key dates of the Offer
Firm bids are due by 5.00pm on Tuesday 24th April 2018 (AEST).

These dates are indicative only and may be subject to change. Perennial Investment Management Limited (PIML) reserves the right to close the Initial Offer early, to accept late Applications or extend the Initial Offer without notifying any recipient or any Applicant.